Congratulations Emily Hume! 1st Place State Science Fair! Jr. High Environmental Science Reduction of Nitrates: What Works

Community Support Lines

Governor Polis announced today that all schools in Colorado will remain closed through April 30. We will continue to provide information as state and local decisions are made. Stay home, stay safe, and stay connected!

We need more videos of students saying the pledge! Send your clips to Mrs. Hund at
s.hund@walsheagles.com
or 719-691-5338. Have a fantastic day of learning!

https://www.facebook.com/126693060822/posts/10157236311130823/?d=n
Congratulations to the following Walsh High School Basketball Players for making the 2019-2020 CHSAA All-State Team: Dylan Renquist: All-State Second Team Brendon Hodges: All-State Honorable Mention Rylan McCall: All-State Honorable Mention Jensen Renquist: All-State Honorable Mention

In an effort to reduce the risk of spreading COVID-19, Walsh School District will distribute a full week of meals at one time. Meal pickup will be from 12:00 pm - 1:30 pm each Monday, beginning March 30th. Thank you for your patience as we respond to rapidly changing information in this situation!

SECOM is no longer installing new internet service. If you need access for remote learning, please contact Mrs. Hund at 719-691-5338.

Tomorrow's Board of Education Meeting can be accessed by calling (978) 990-5000. Enter access code 829656 when prompted.
Governor Polis' executive order effective at 6:00 am on March 26, 2020, will NOT prevent students from picking up their instructional materials or meals at the school. Remote learning and our emergency meal program will continue as scheduled. Stay healthy! Be safe!

2020 Boettcher Foundation Teacher Recognition Awards Program: Each 2020 Boettcher Scholarship finalist was asked to identify one teacher who impacted their lives and made significant contributions to their growth and education. In addition to a plaque, the recipients of the Teacher Recognition Award will receive a $500 grant, which they may use toward an educational program, professional development, or project to benefit students at our school. Our 2020 Boettcher Scholarship finalist Dylan Renquist chose Mr. Joe Mundell as his teacher nominee in recognition of Mr. Mundell's passion for the profession and dedication to his students.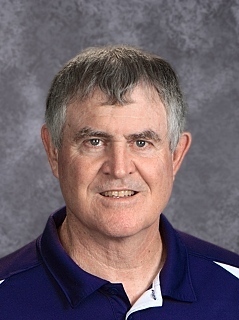 March Board of Education Meeting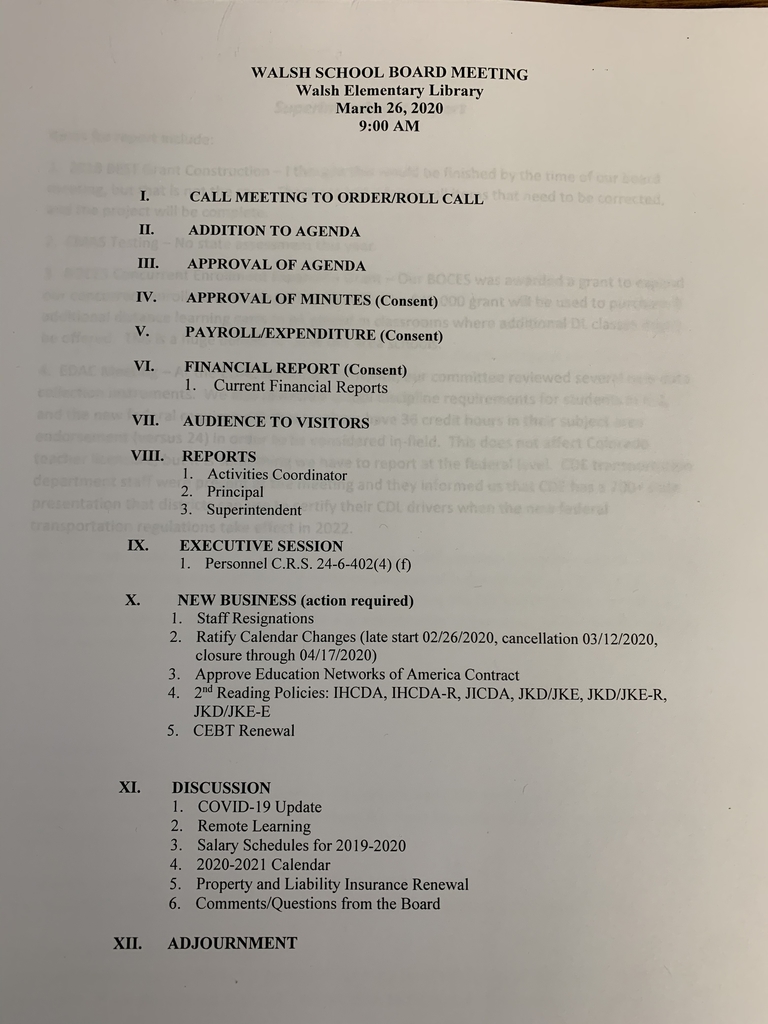 Curbside grab and go meal service begins Monday, March 30th. Meals will be distributed free of charge at our cafeteria Monday through Thursday, from 11 am-1 pm. All children 0-18 years old can receive these meals.

Information regarding the Walsh School District RE-1 remote learning plan is being mailed today. Please contact us if you have any questions. Stay healthy and safe!

Attention: All Parents & Students of Walsh High School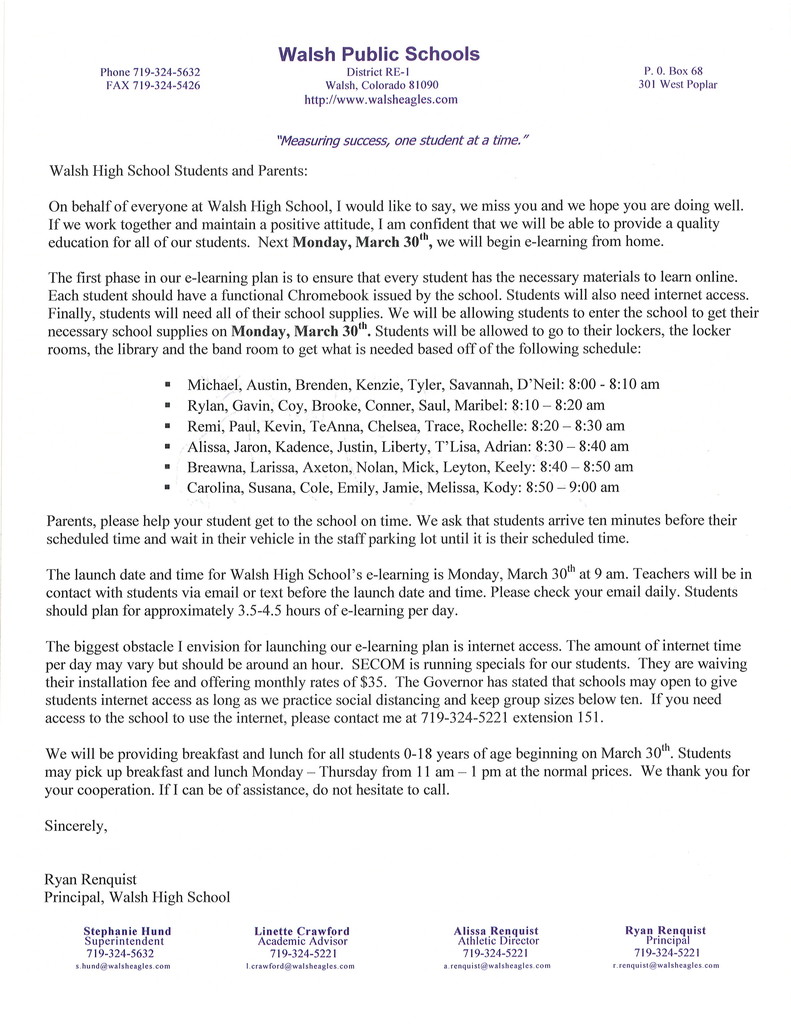 If you have videos of your students saying the Pledge of Allegiance each morning, I'd love to share them! Send a link to:
s.hund@walsheagles.com
, or tag me in your video. I'll share one video each morning at 8:00. 🇺🇸

Dylan Renquist 2020 Daniels Scholar Congratulations to Dylan Renquist, who has been selected as a Daniels Scholarship recipient! Daniels Scholars are selected because they embody the criteria Bill Daniels defined for the program: • Strength of character • Leadership potential • Commitment to serving their communities • Academic performance or promise • Well-rounded personality • Emotional maturity and stability Daniels Scholars also uphold the values that meant so much to Bill Daniels. Those values include ethics and integrity, honesty, respect for people, loyalty and reliability, entrepreneurial spirit, patriotism and dedication to community, commitment to excellence, and etiquette. Dylan will be attending Regis University, majoring in Nursing. His goal is to complete a Master's Degree to become a Registered Nurse Practitioner and serve in a rural community.

Our remote learning and meal program will begin on March 30th. Details to follow. Stay tuned!

Thank you, SECOM! SECOM will offer 'Special Discounted Pricing' for Internet Service for home schooling in our Service Area. Wireless Internet (where service is available) -$29.95 15mbps/7mbps plan for 90 days then they can move to their desired plan. Visit our website to check to see if your home address is serviceable.
http://www.secom.net/
Toll-free: (800) 657-7149 Fiber Internet (where service is available) -$29.95 50mbps/25mbps plan for 90 days then they can move to their desired plan after. Free Installation – ($150 value) Local: (719) 383-1349 Email:
sales@secom.net

Walsh JH Busy Bakers Club is pleased to announce that we have received grant approval from the Cooper-Clark Foundation for our entrepreneurial project! The grant funds will be used to purchase a mobile coffee/pastry kiosk just like those you see in big cities. It will be custom branded with Walsh colors and logos. The grant includes the kiosk, branding, security storage cover, covered pastry display cases, coffee & hot chocolate makers, condiment organizers, and club member aprons. In addition to baking goods for our sales, this project will include experiences with: Money management - budgets, purchases, expenses, receipts, and net profit. Salesmanship - Meeting & greeting customers and sharing about menu items Advertising- Promoting and advertising the business through social media Interpersonal skills - learning to work effectively with others Students, staff, and community members are invited to stop in, see our setup, and purchase some goodies! More information to come on our kick-off event!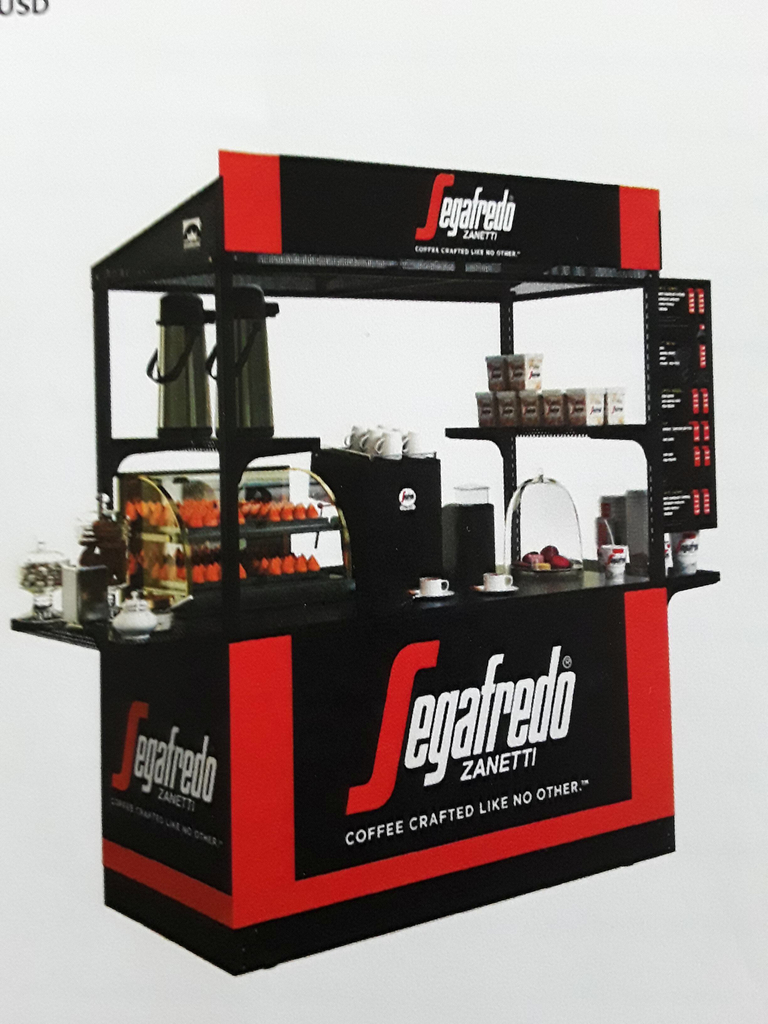 Gov. Jared Polis has issued an executive order that suspends in-person instruction at all public and private schools from March 23 to April 17. Details on home-based learning and the provision of meals will occur next week.