Varsity VB Tri @ Sublette, KS - Game times are at 4pm and 5pm (MST)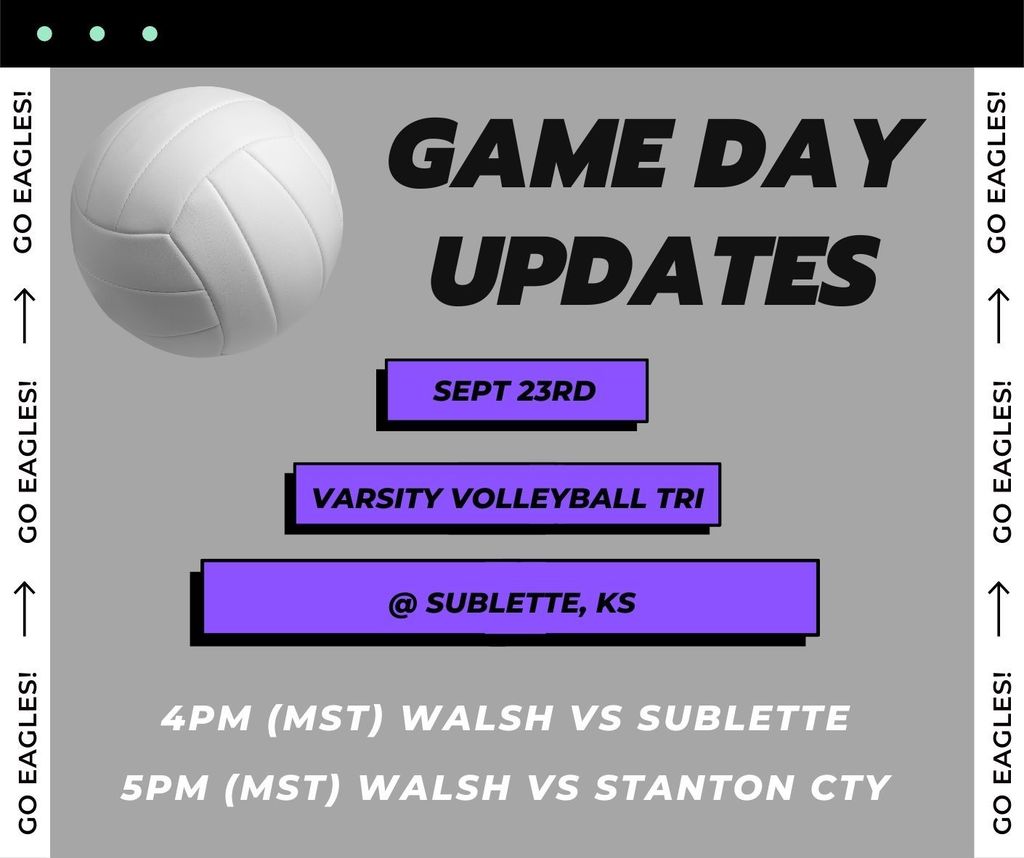 Game Time Changes for September 24th @ Kit Carson - Junior High B Team volleyball will start at 3PM. Junior High A and Varsity volleyball will follow. There will NOT be a JV volleyball game. Junior High football will start at 4PM and Varsity football will start at 7:30PM.

Game order for the HOME volleyball games vs South Baca is as follows: JH B, JH A, HS V, and HS JV. Please note - JV will be AFTER Varsity and will be (2) sets to 25. The first game (JH B) starts at 3PM. Hope to see you there! Go Eagles!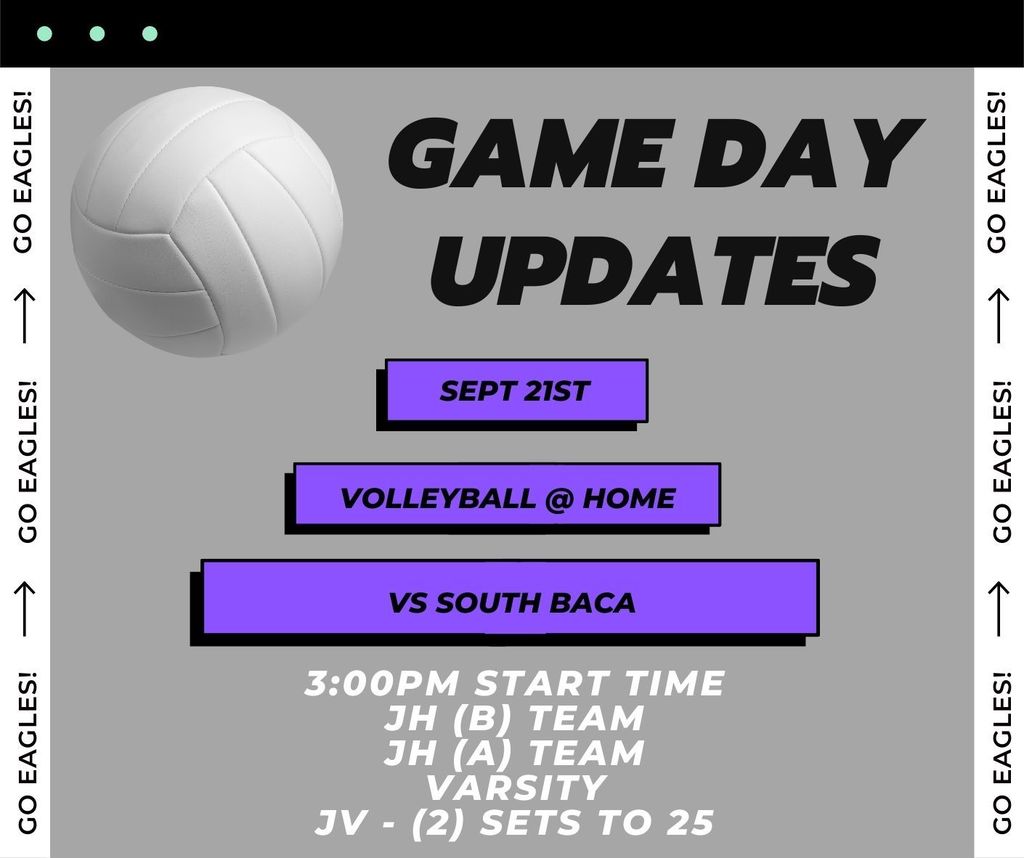 WALSH HOMECOMING 2021 #GOEAGLES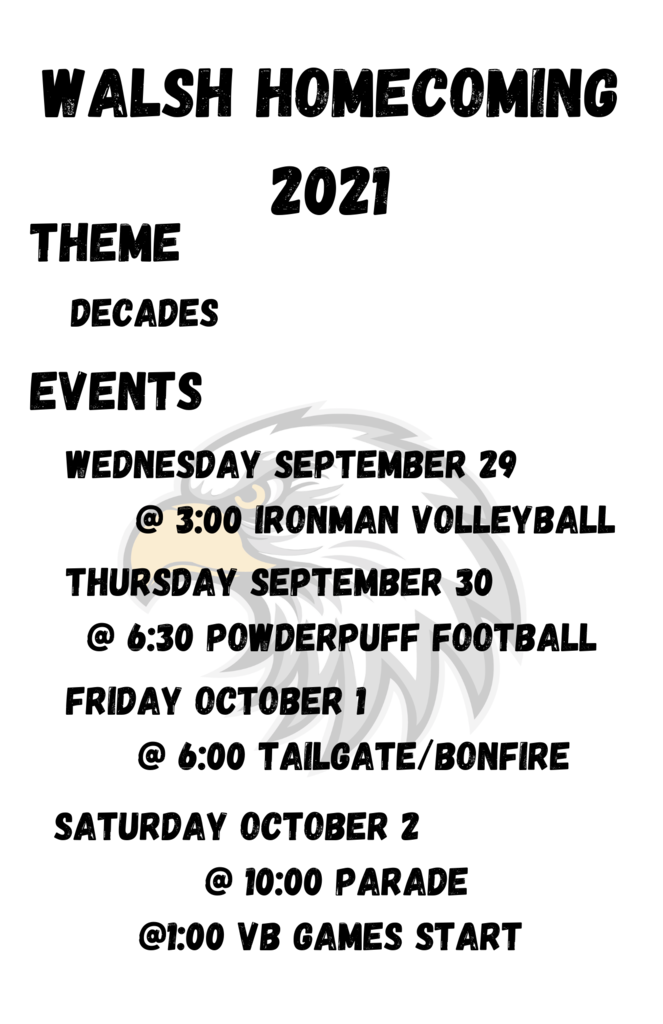 Please join us on Saturday for some Junior High volleyball action and let us cook for you while you're here! Breakfast Specials - Biscuits & Sausage Gravy: 1/2 order $3.00 Full Order $5.00 Breakfast Burrito & Sausage Gravy $5.00 Lunch Special BBQ Hamburger, Buses Baked Beans, & Chips $7.00 Thanks you for supporting the 2022 Senior Class!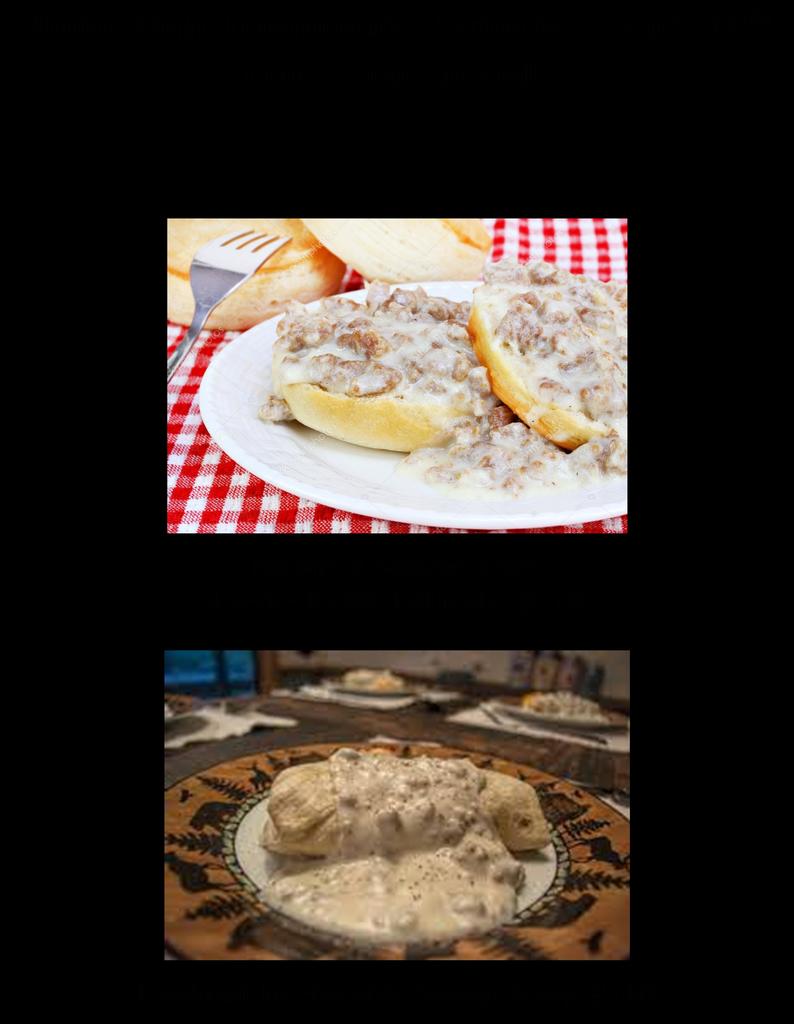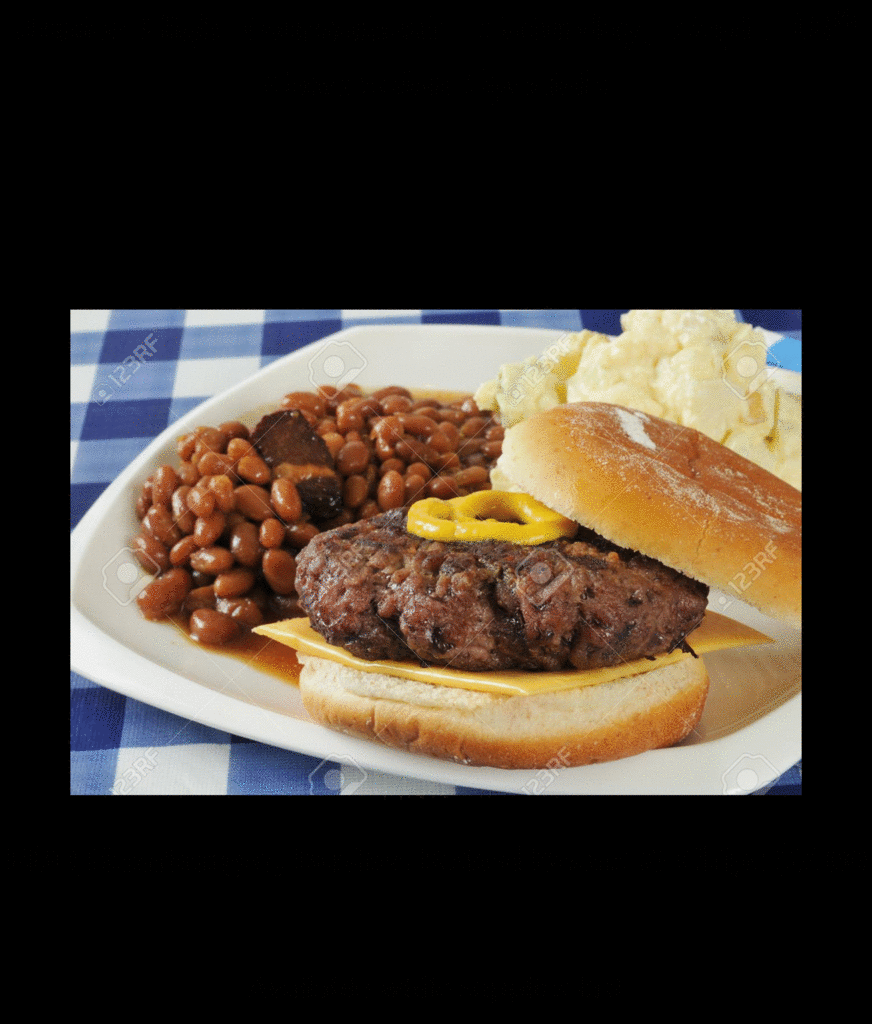 Thank you!

The Walsh Eagles and Springfield Longhorns will join one another after the JH/HS volleyball games and JH football game on Tuesday, September 14th for a tailgate dinner. If you'd like to attend the dinner, please bring a potluck dish to share. We are encouraging everyone to wear BLUE all day to show our support for the Wiley Panthers. All players, families, and fans are welcome!

Picture Day is tomorrow! Picture forms were sent home with your student, however, there are more at the front offices if you need one.

Game Day Updates - September 13, 2021 - JH Volleyball Tri at Rolla. Games start at 3:30PM (MST). This is for both JH teams, A and B.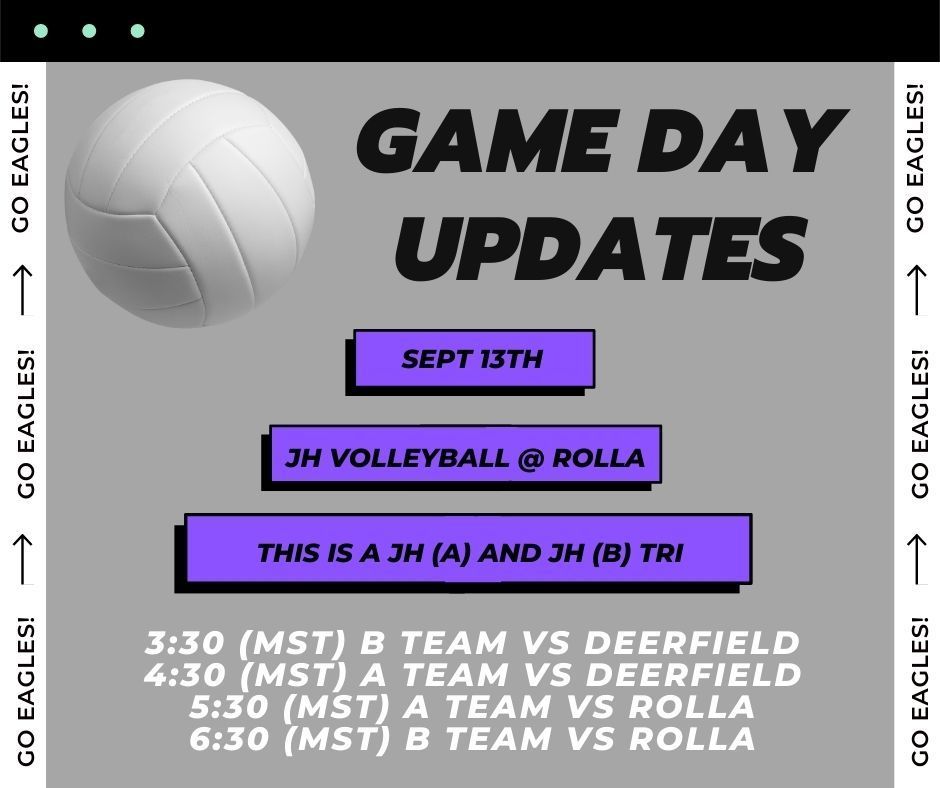 Game Day Updates - September 10, 2021 - JH/HS Volleyball at Cheraw. Games start at 3PM. Game order is as follows: JH B, JH A, JV, and Varsity. JH Football starts at 4PM and V Football starts at 7PM.

Game Day Updates - September 9, 2021 - JH and HS Volleyball at HOME vs Kim/Branson. Games start at 4PM. Game order is as follows: JH B, JH A, and Varsity. There will NOT be a JV game.

Grandparent's Day Dinner - Prepared by the HS Cheer Squad! Treat your loved ones to a delicious Spaghetti Dinner on September 12, 2021. The dinner will be served from 11AM to 2PM and will be carry-out ONLY. Cost is $10/plate and includes: Spaghetti, You can call or text to place an order OR you can place an order in person, at the cafeteria on Sept. 12th. Call or Text: Tammy @ 719-523-3242 - Bailey @ 719-691-4709 - Lindsey @ 719-353-2203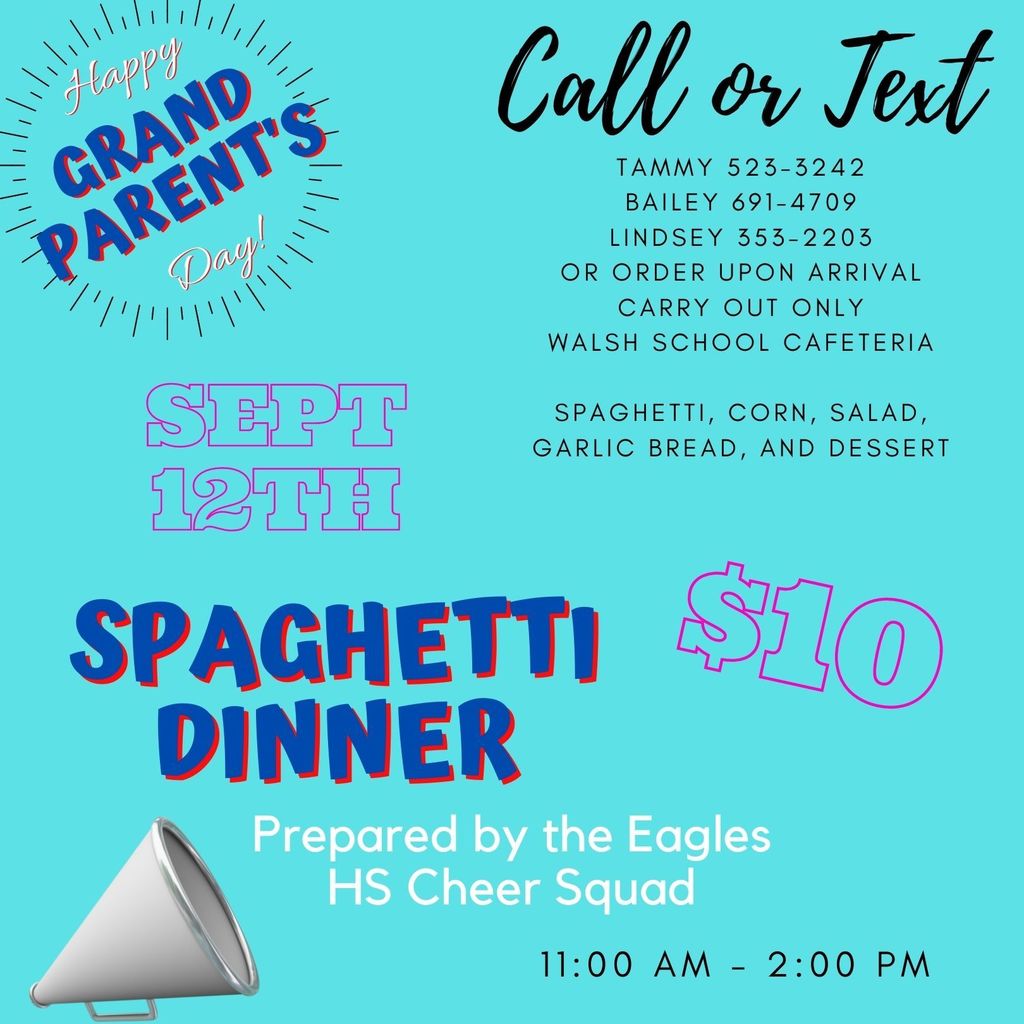 Game Day Updates for Volleyball - Sept. 3rd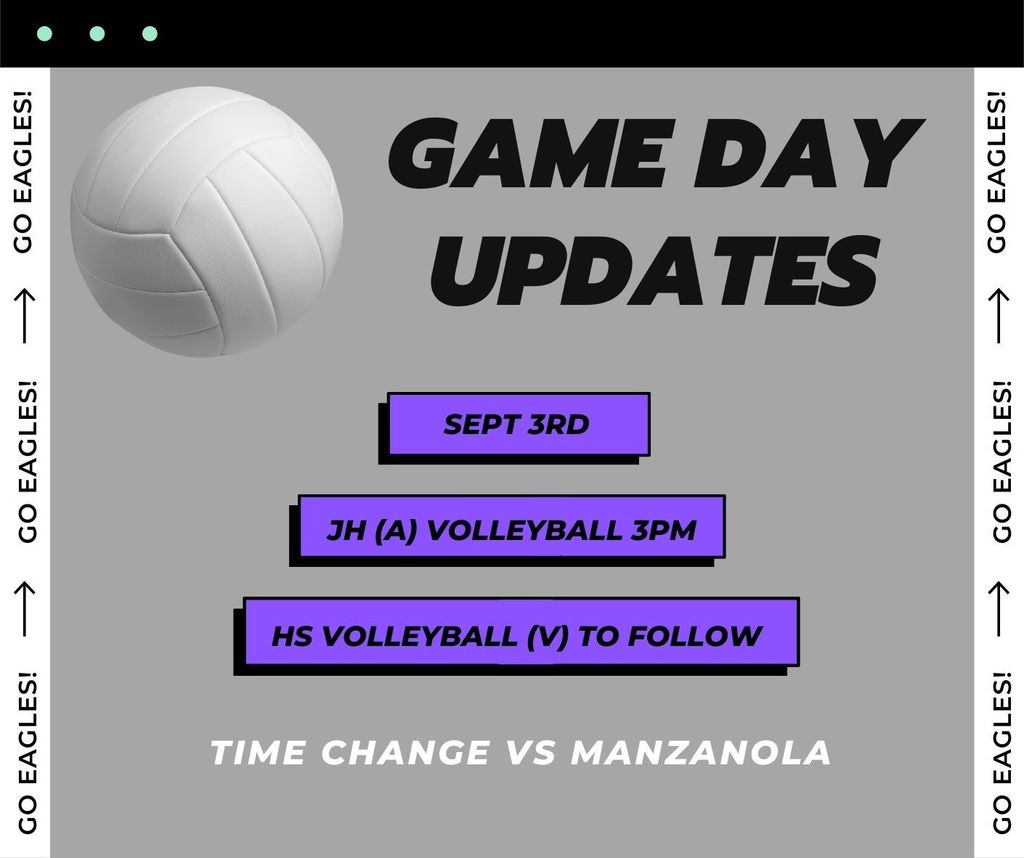 HS Football Game Added: There will be a HOME Varsity football game on Thursday Sept. 2nd at 7PM vs Cotopaxi.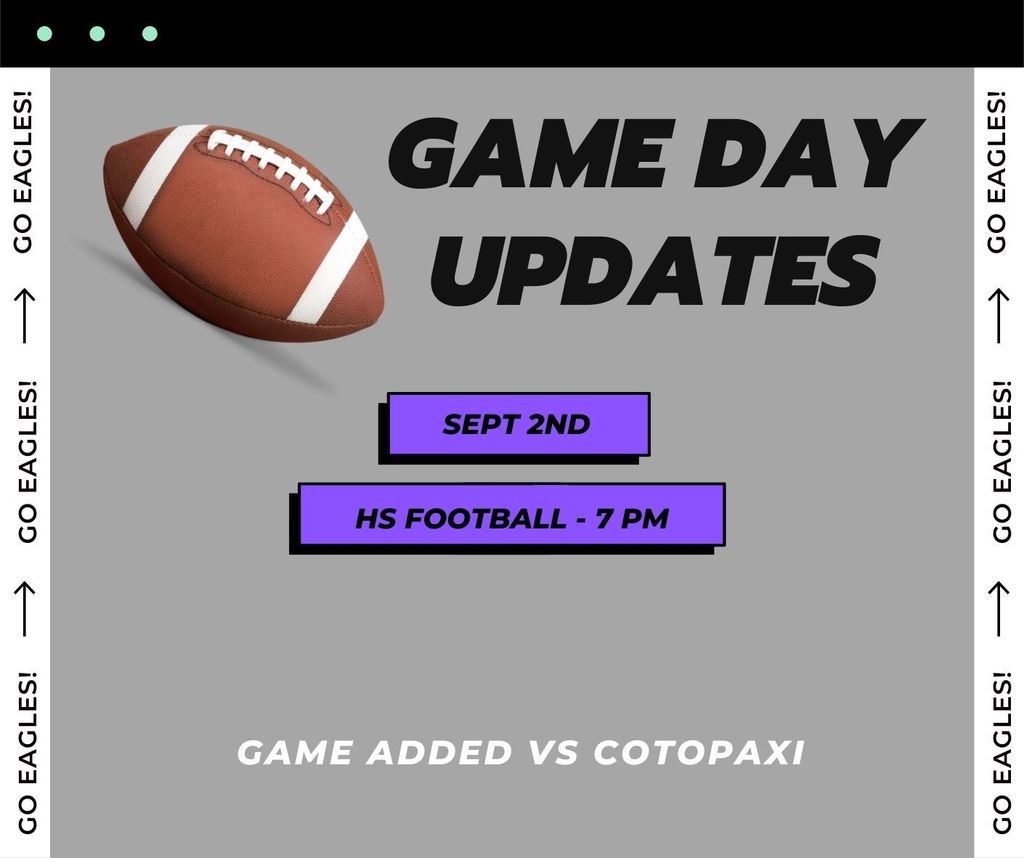 The HOME JH and HS volleyball games with Wiley on Aug. 31st have been postponed but are rescheduled for Oct. 21st. JH (B, A) will start at 3PM, JV and V will follow. We hope to see you there! Go Eagles!🦅💜🦅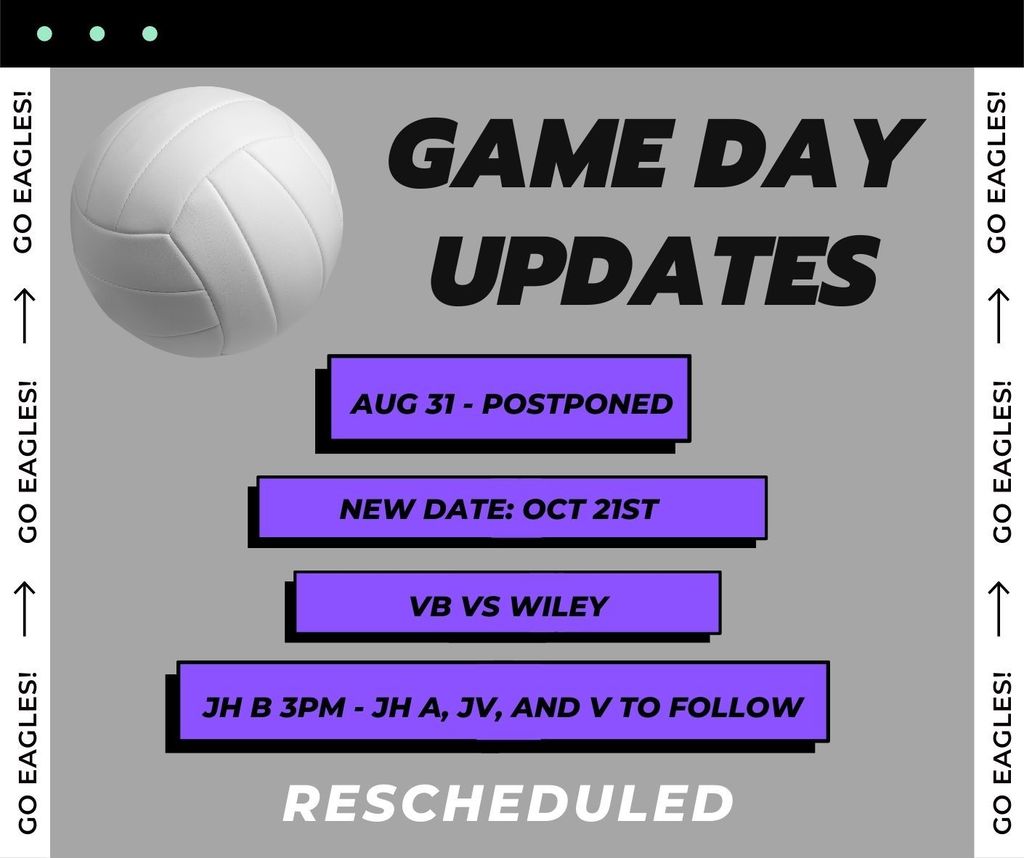 Game Day Updates for Football - Aug 27

Game Day Updates for Volleyball - Aug 27th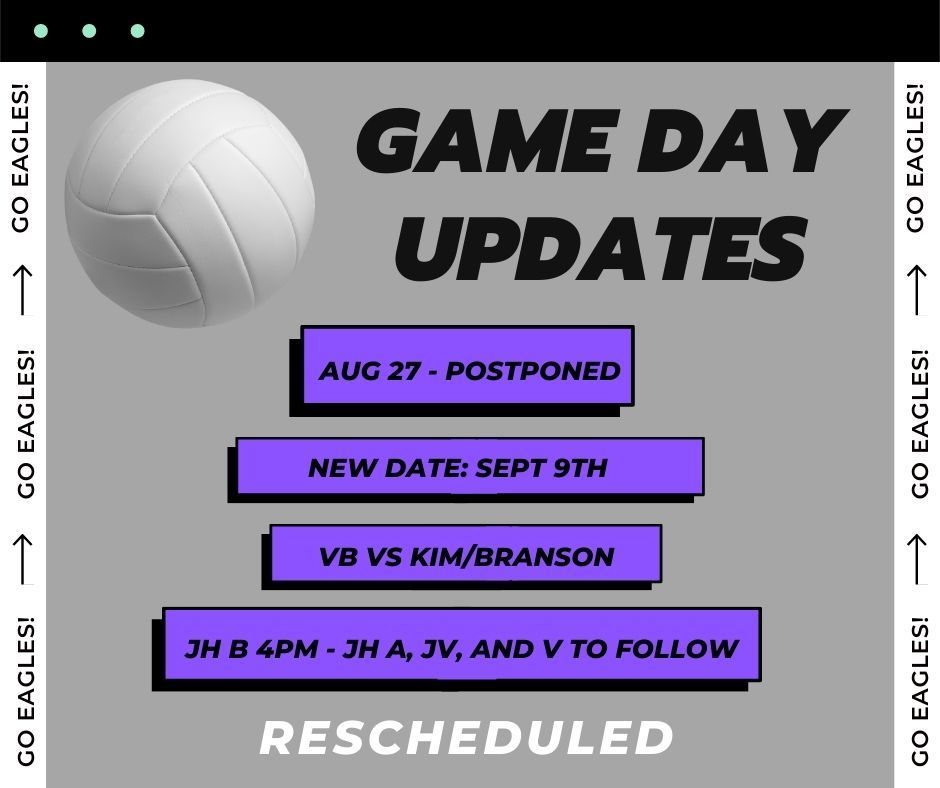 Updates on games vs Manzanola. Games are now on Sept. 3rd instead of Sept. 4th and times have been adjusted. Please note that there is NOT a V Football game on this evening.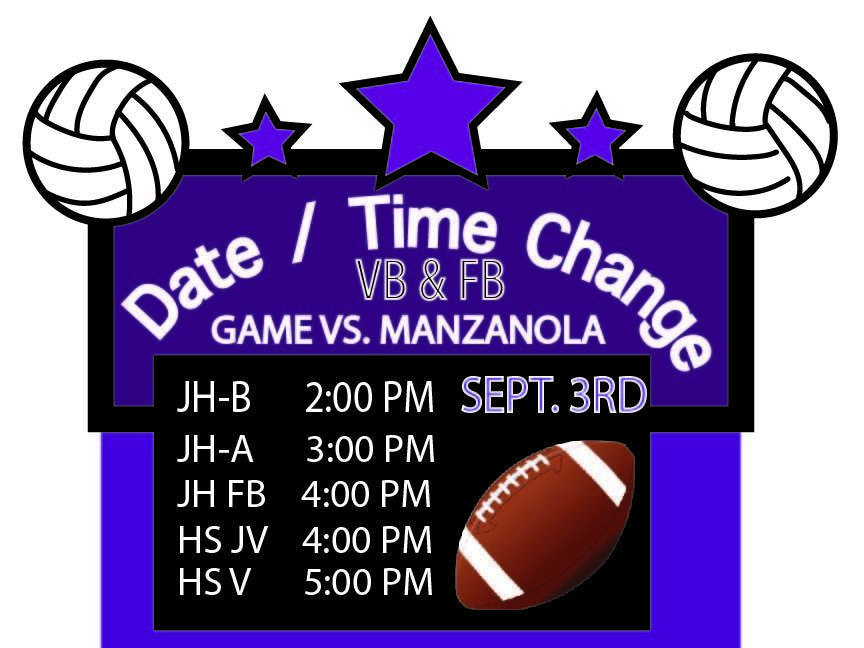 School picture day will be on Monday, September 13th!
Please contact Mr. Alvarez if you have any questions!